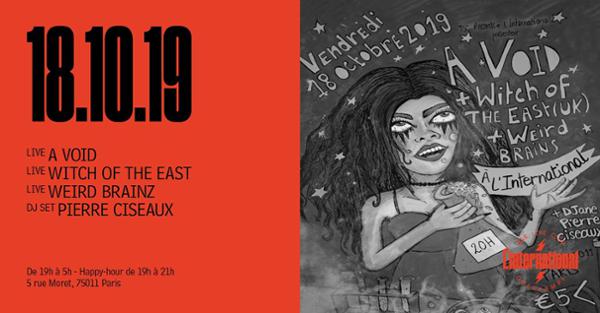 Date / Heure
Date(s) - 18/10/2019
19 h 00 min - 23 h 00 min
Lieu
L'international
5/7 rue Moret, Paris
Catégories
TSC Records + L'INTERNATIONAL présentent…
Camille et sa bande vient honorer l'inter de ses fulgurances acides et sombres avec A VOID.
"Hailing from both Paris and London, A VOID are responsible for buzz-saw grunge pop that combines bitter grit and a self-effacing lyrical charm which results in some of the best alt. rock that you're likely to hear. Vocalist Camille Alexander possesses riot grrrl charisma that frankly surpasses any kind of categorisation when taken in tandem with her nakedly personal lyrics, giving their ever-accessible songs a perennially dark heart. Their recently self-released debut album, 'Awkward and Devastated', is a vital listen and is available from their website, via Bandcamp, and the usual digital platforms."
thevapourtraillondon.wordpress.com/2019/07/13/no-rest-for-the-wicked/
Highly recommended for fans of Sonic Youth, Reuben, Hole, Deftones, biffy clyro, Babes In Toyland, Nymphs, L7, Mary Bell, Dalida, Explorateur, etc.
Camille Alexander – chant/guitare
Marie Niemiec – batterie/chœurs
Aaron Hartmann – basse
avoidinyou.com/music/
avoidinyou.bandcamp.com/album/awkward-and-devastated
open.spotify.com/album/4Ecxd2jnG9r0b6k12Ij0up
youtube.com/c/avoidinyou
facebook.com/avoidinyou
instagram.com/avoidinyou
twitter.com/avoidinyou
+ Witch of the East (Nottingham, UK)
+ Weird Brainz
+ DJ set de DJane Pierre Ciseaux
Tarifs : Prix : 5€