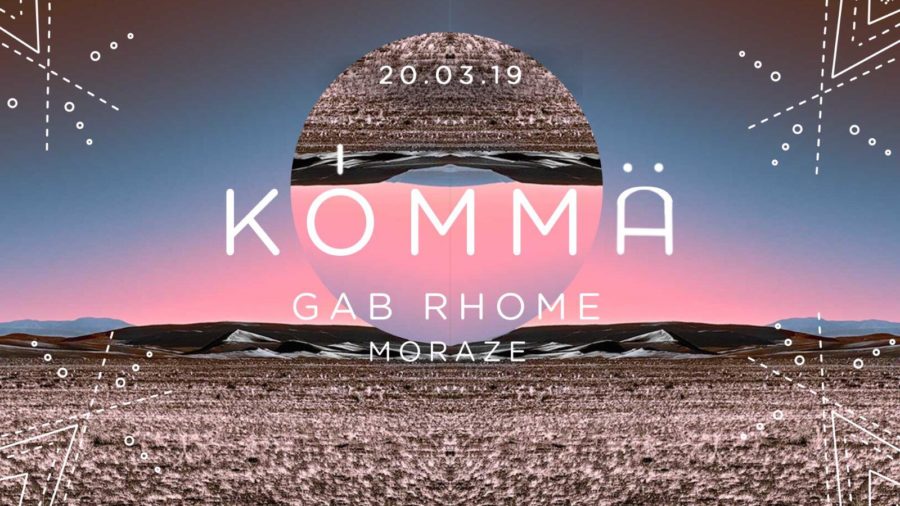 Date / Heure
Date(s) - 20/03/2019 - 21/03/2019
23 h 00 min - 7 h 00 min
Lieu
KÖMMÂ PARIS
65 rue Pierre Charon 75008, Paris, Paris
Site web
Page web de l'événement
Catégories
➰KÖMMÂ ➰ ACTE 10 :
w/ Gab Rhome
& Moraze
▬▬ NOS ARTISTES ▬▬
➰Gab Rhome : (All Day I Dream, Muzo Creative)
https://soundcloud.com/gabrhome
Gab Rhome has amassed quite the armada of label credits in only 2 years : All Day I Dream,Anjunadeep, Kindisch, Get Physical and Sasha's Last night on Earth to name a few. He began his musical journey at an early age playing multiple instruments while being shaped by jazz music, and it only took a few years before making a transition towards the rhythms of dance music. The Montreal-born musician currently focuses on dreamy and hypnotic electronic music, best suited for warm bubble-baths. His delicate melodies resonate best when coupled with his organic percussions, similar to the relationship between a proper bottle of wine and some classy tenderloin. His melodic tech-house productions have brought him on journeys across the globe where a similar voyage is built during his dj sets. Although his dj sets are not to be missed, the true nature of Gab Rhome's music is best experienced while watching him during a live performance; a symphony of bass guitar,original synthesizer hooks and the unforgettable Gab Rhome suave.
➰ Moraze : (Tonal Advisory)
https://soundcloud.com/moraze-music
Moraze is a French DJ/Producer that explores the
intricate details of modern electronic music and
the intersectional relationship between melody and
emotion in the deeper areas of house and techno. Moraze's productions are characterized by stirring
progressions, dark undercurrents and an immersive
atmosphere that entrances music fans on the dance
floor. With a catalogue of music set to be released
over the coming months, Moraze continues to
bring his hypnotic sound to venues around the
world.
▬▬ INFORMATIONS ▬▬
➰Mercredi 20 Mars 2019
De 23h00 à 07h00
➰TICKETS PREVENTES: First Release: 15€
RA: https://bit.ly/2O8OzVf
Shotgun: https://shotgun.live/event/288178
SUR PLACE 20€
➰RESERVATION TABLE (only 9)
kommaparis@gmail.com
Téléphone: 06 12 15 78 19 (whatsapp)
KÖMMÂ
65 rue Pierre Charron
75008, Paris