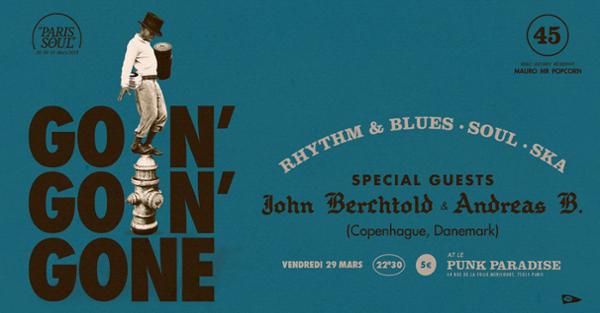 Date / Heure
Date(s) - 29/03/2019 - 30/03/2019
22 h 30 min - 5 h 00 min
Lieu
Punk Paradise
44 Rue de la Folie Méricourt, Paris
Catégories
Paris got soul – Goin' Goin' Gone
PROGRAMME / PROGRAM
Goin' Goin' Gone
••••••••••••••••
Vendredi 29 Mars
@ le Punk Paradise Punk Paradise
44 rue de la Folie-Méricourt, Paris XI
À partir de 22h30 — 5€
Disc-jockeys invités :
• John Berchtold
• Andreas Beraha
(Copenhagen Soul Weekender, Copenhague Danmark)
Résident disc-jockey Mauro MrPopcorn
Les invités:
John Berchtold (DK)
I am so happy to get the chance to play some of my small records with the big holes in Paris alongside great people with sick records! I dj weekly in different locations throughout Copenhagen. My favorite spots are Mesteren&lærlingen where I have been booking for almost 10 years and the Soul joint Absalon which we use for te monthly parties "Absalon Got Soul" and the Copenhagen Soul Weekender. I have been collecting and djing for the past 15 years, anything from Hip Hop to Garage, Jamaican, Rockabilly, Rhythm&Blues and 60s 70s Soul.
Nowadays I have a weakness for records that cover more than just one genre and sometimes can't be put into categories. I like when different styles meet!
Here are 6 records I am planning to spin:
Shades – Hit It
Lyrics – Keep Me Close To Your Heart
Vikki Styles – Tears Won't Stop Falling
Midnight Sun – I'll Find A Way
Willie J Charles – Feelin Kinda Lonesome
Bill Bush – I'm Waiting
Andreas B (US-DK)
Relocated to Scandinavia from sunny California almost exactly 9 years ago. During a dark winter in Malmö, Sweden, he decided over many a late night and in between many episodes of Seinfeld to finally take the plunge from a casual soul fan to total soul obsessive. Seemingly overnight, accounts drained and the collections of various other genres slimmed – this was a thing. Now a few years later, hopefully wiser and with quite a bit more late night online digging sessions under his belt, he's set himself up as a tastemaker around Copenhagen, where you can find him playing out often. Besides solo gigging, he busies himself co-hosting a number of events including the city's flagship annual Copenhagen Soul Weekender, Double Barrelled Soul Club Allnighters and Soul Dispenser. Andreas likes to dig deep and pull out obscure soulful treasures – be it sweet, deep, funk-edged or hard-hitting 60's soul – as well as having a big soft spot for gospel soul aimed at the dance floor.
5 current spins:
• The Superlatives – Won't You Please (Be My Baby) (Dynamics)
• The Tinkers – My Lost Love (Stop)
• The Harmonics – Be Your Man (Seventy-7)
• Scotty Wendom – Laugh & See (Cal-Gold)
• Dynamic Corvettes – Keep Off The Grass (Ru-Jac)
Tarifs : Vestiaire compris : 5€